Details

Category: Arts & Culture
Published: Wednesday, 04 August 2021 09:22
Written by Nita Teoh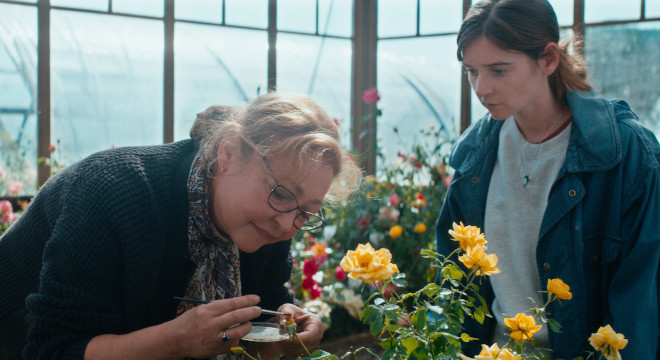 Catherine Frot (as Eve Vernet), and Marie Petiot (as Nadège)
Photo Credit: The Rose Maker
On a blustery and wet winter's night, my partner and I headed to the Windsor in Nedlands to watch The Rose Maker.

Being a sucker for French movies, I couldn't resist the lure to watch this one.

Catherine Frot plays Eve – the central character who runs a rose cultivation farm that is on the verge of bankruptcy. It is dear to her heart having inherited it from from her father who has since passed and she will do anything to save it from ruin.

Her secretary Vera comes up with the clever idea to hire 3 farm hands from a back to work program – the only problem is that they have no clue about working on a rose farm!

Challenge and after challenge confronts Eve's rose business and as the farm hands get a handle on their jobs – some unlikely friendships develop.

The friendship that blossomed between Eve and the farm hand Fred (played by Manel Foulgoc) was particularly touching.

Catherine Frot was perfectly cast for this role. She is charmingly eccentric in her manner and her passion for her roses shines through in an uplifting way.

Like the last movie Perfumes that we watched at Windsor (a French movie about perfumery) – The Rose Maker's theme of rose cultivation provided an interesting insight into a way of life that the average person doesn't known much about.

Along with the farm hands, we (the audience) also learnt a thing or two about rose cultivation.

It's a funny, warm and heartfelt movie – just the perfect tonic for those of us who braved the rain, cold and flooded streets to get there!

The Rose Maker opens at Luna Palace Cinemas on the 5 August.
If you enjoyed this article, please share it!


To find out about the hottest events in Perth, follow us at @PerthWalkabout