Details

Category: Arts & Culture
Published: Thursday, 06 February 2020 08:51
Written by Lee-Ann Khoh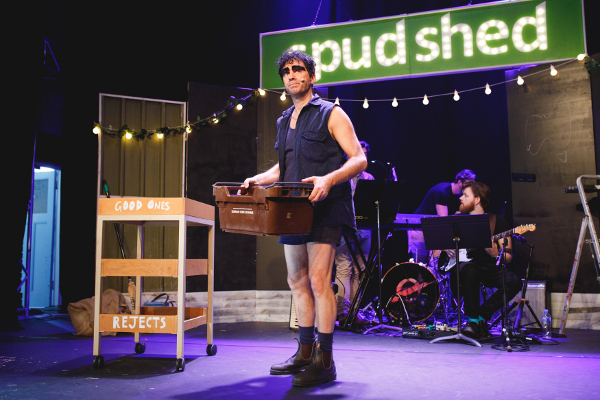 Tony Galati The Musical, Fringe Perth
Photo Credit: Daniel James Grant
A musical about the Spudshed guy?
I had no idea what to expect when I went to see Tony Galati the Musical, but it was a full house that joined me on a stiflingly hot opening night. And boy, did the musical deliver.
Through entertaining songs and choreography, we are introduced to Galati's Sicilian roots, his family's market garden in Perth, his highly publicised battles with the potato board, and his now-iconic Spudshed supermarkets. The show does take some creative license (which is acknowledged) as it tells us the story of a loveable Aussie battler.
The cast is brilliant, filling a range of roles including members of Galati's family, the head of the Potato Marketing Corporation, Kochie and Mel from Channel 7's Sunrise, and an inspirational singing potato. Donning the blue singlet that's synonymous with Galati, Thomas Papathanassiou also looked a lot like the man he plays, even when his trademark bushy eyebrows fell off mid-show.
Many of the gags probably wouldn't have made much sense to non-Perth people, but the local crowd was in fits of laughter for much of the show. At times, some of the lyrics could be a little hard to hear over the sound of the on-stage band, but I didn't feel like I missed anything. Well, except when I tried unsuccessfully to catch a potato that was tossed into the crowd.
I didn't know what I was expecting, but Tony Galati the Musical ended up being a rousing love letter to Perth, being different, standing up for what you believe in, and of course, the humble spud. A surprisingly heart-warming tale that doesn't take itself too seriously, it was a great way to spend a humid summer evening.
Tony Galati the Musical is on at Girls School, East Perth as part of Fringe World until 15 February 2020.

If you enjoyed this article, please share it!


To find out about the hottest events around Perth, follow us at @PerthWalkabout