Details

Category: Arts & Culture
Published: Tuesday, 25 October 2022 08:20
Written by Nita Teoh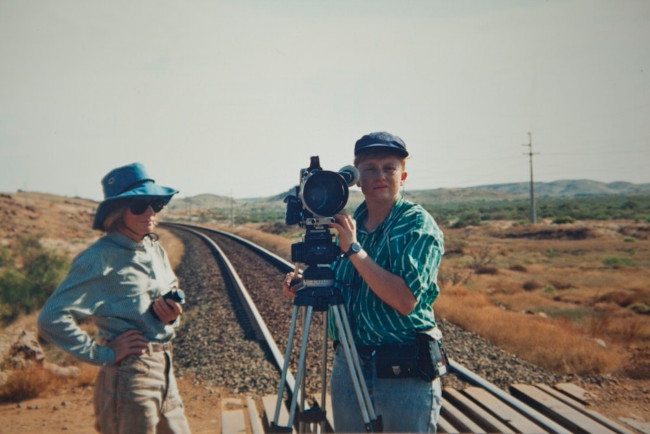 Lilias Fraser and Jane Castle on the set of 'Women of the Iron Frontier' (1998)
Photo Credit: When the Camera Stopped Rolling
On a Sunday morning in Perth, I strolled through Northbridge on my way to attend a session at the final day of the UBUD Writers and Readers Festival at The Rechabite on William St.

As I walked through the inner city, I observed the rituals and hum of inner city life - people getting their fix of coffee, peeking in to look at the art work inside the North Metro TAFE building, and watching homeless individuals prepare for their day ahead as they stored their belongings wherever they could.

Today's session at the UBUD Writers and Readers Festival was the feature documentary "When the Camera Stopped Rolling" by Jane Castle about the life and times of her mother Lilias Fraser - a  renowned cinematographer whose working life spanned the decades from the 1950's to the 1990's in Australia.

Lilias Fraser's professional and personal life was a rollercoaster ride in a multitude of ways, and in turn her daughter Jane also encountered her own challenges with her career and her difficult relationship with her mother.

Despite dealing with obstacle after obstacle, both carved out professions in the cinematic world and rose to stardom with notable success in their field.

Their respective biographies encapsulate their many achievements:

Biography of Lilias Fraser

" In 1957 Lilias Fraser, decades ahead of her time, singlehandedly shot her own movie, The Beach. Soon after, she traveled to Paris at the height of the French New Wave and became the first Australian to study at the National Film School of France (IDHEC).

After working on films by Paul Paviot and Le Groupe des Trente she returned to Australia to launch her directing career with her husband, Norman Castle, as producer and 'front-man'.

While Lilias honed her skills on nation-building industrial documentaries of the 1960s, her politics lay elsewhere and, in 1970, she made one of Australia's first land rights films, This is Their Land.

Despite her success as a filmmaker, the violent and debt-ridden marriage she became trapped in finally caused Lilias's career to spiral down and exacerbated her struggle with alcoholism.

By the late 1970s, at the nadir of her personal and professional life, she started from scratch, found sobriety and was discovered by the nascent community of Sydney's feminist filmmakers.

This was Lilias's awakening. It catapulted her into a new phase of personal and political filmmaking - starting with Women of the Iron Frontier, a feminist reframing of her vast catalogue of mining films."


Biography of Jane Castle

" Director / Writer Jane Castle is a multi-award-winning filmmaker and cinematographer. She's shot feature films, documentaries and a vast range of music videos for performers such as Prince, U2, Mary J Blige, Usher and INXS.

She has won the Stockholm, Kodak and Australian Cinematographers Society awards for Best Cinematography. From 1990 to 1995 Jane lived and worked in the US and in 1993 became the second ever woman to be accredited by the Australian Cinematographer's Society.

Jane's directing work includes the award-winning short, Roadside Café, the SBS TV documentary Sixty Thousand Barrels and her first feature documentary, When the Camera Stopped Rolling.

Jane combines her filmmaking with environmental activism, producing and directing campaign videos for groups such as Greenpeace and the Total Environment Centre."

Jane Castles' feature documentary "When the Camera Stopped Rolling" is a deeply moving story about her Mother told from her own personal perspective.

It paints a vivid picture about tackling life's blows and about being resilient in order to just keep afloat and survive.

There were no women in the cinematic profession at the time, and the age old time memorial issue of balancing motherhood with a career proved very challenging.

The documentary is a powerful piece – encapsulating themes in life that none of us are immune to – dealing with the death of a loved one and coping with trauma.

Thanks to Cathy Hendrel (Director of the WA Screen Academy at Edith Cowan University) for the stimulating Q&A with Jane Castle that occurred after the film.

All up - "When the Camera Stopped Rolling" is a moving piece about two women's cinematic careers and their complex mother – daughter relationship - interwoven with some stunning archival footage to tell the story.

It has won an accolade of Awards including:

Winner Gold Award - Spotlight Documentary Film Awards 2020

Official Selection - Femmes en Resistance (Festival Feministe de documentaires) and

Official Selection - Through Women's Eyes International Film Festival 2021.


I walked away from the film in awe – inspired by two amazing women and grateful for the Director / Cinematographer to have shared her own very personal life story and that of her mother's.

In turn, I felt contemplative and reflective about my own experiences.

Watching the film #WhenTheCameraStoppedRolling has left a lasting imprint on me and in days to come, I am sure it will continue to weave itself through my own personal experiences and recent contemplation on life and death. 
If you enjoyed this article, please share it!


To find out about the hottest events in Perth, follow us at @PerthWalkabout