Details

Category: Specialty Food and Drinks
Published: Wednesday, 16 January 2013 12:14
Written by Nita Teoh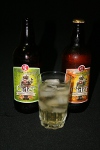 Broome…laid back and balmy, a great escape during the winter time in Perth or anytime really. If you're looking to quench your thirst, then make sure to visit the Matso's Brewery for their range of ciders and beers. A visit to Broome wouldn't be complete without tasting the range of brews that this family owned company crafts.
At Perth Walkabout, we are always on the hunt for those special locally made products which are a real treat to the senses….whether to the taste buds, eyes, or palate, you name it. And when we do discover them, we are over the moon.