Details

Category: Arts & Culture
Published: Saturday, 21 January 2023 10:50
Written by Nita Teoh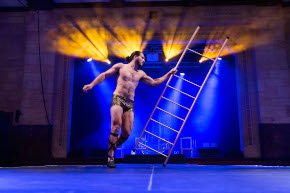 The weather in Perth has been sizzling hot and so are the Godz from Head First Acrobats.

They are back for Fringe World and audiences are lucky that they will be performing at our annual fun arts fest.

Judging by the electrifying carnival like atmosphere at The Pleasure Gardens in Russell Square Northbridge as we waited outside the Aurora Spiegeltent, we knew we were up for an exciting night.

The evening's entertainment saw the ancient Gods of Olympus show off their prowess as well as at the same time tackling their demons.

The performances of Apollo (God of Light, Music & Healing), Cupid (God of Love), Hercules (God of Strength) and Dionysus (God of Wine) are fun, cheeky and amazing.