Details

Category: Arts & Culture
Published: Saturday, 30 November 2019 09:22
Written by Greg Letts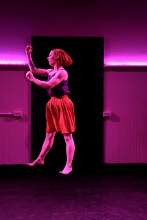 Standing on the balcony outside the Blue Room Theatre, my partner and I mused on what we were about to witness during the performance of Bang! Bang!, a theatrical dance double-header. Not being dance devotees, we were interested in how the cast and crew would bring the two pieces, Love You, Stranger and Act 2, Scenes 1-4 to life.

Prior to settling into our seats, we crossed a stage stripped bare of props and scenery apart from a half-dozen or so black wooden boxes. The focus was undoubtedly on the three cast members, dressed in garb reminiscent of Victorian era dresses. Love You Stranger presents the fates of three women of those times who were brought to trial for murder, and provides a commentary on our own modern issues of public shaming.