Details

Category: Arts & Culture
Published: Monday, 24 July 2017 11:07
Written by Lee-Ann Khoh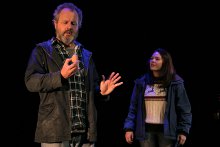 In the space between life and death lies Coma Land, a snowy purgatory that lonely child genius Boon (Kirsty Marillier) wakes up in at the beginning of the play.

There, she meets an excitable girl named Penguin (Morgan Owen) and her secretive father (Humphrey Bower), as well as happy-go-lucky party planner Jinny (Amy Mathews) and Cola (Ben Sutton), a panda who wants to fit in with the humans.
While Cola and Jinny are simply under general anaesthesia, Penguin and her dad have been in Coma Land for a very long time.