Details

Category: Arts & Culture
Published: Wednesday, 04 September 2019 08:33
Written by Nita Teoh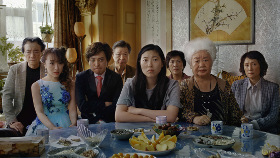 American director and writer Lulu Wang's latest movie The Farewell follows the troubles and tensions of a widespread Chinese family who reunites to visit their dying grandmother whilst concealing the fact that she has been diagnosed with cancer and does not have long to live.
The family visit the grandmother on the pretext of going to China to attend the wedding of a grandson and his Japanese wife to be.
The main character Billi is a young New York woman and budding writer, who has fond memories of her grandmother from when she was a young child growing up in China,  before her parents migrated to America.
As well as being funny and heartfelt, the drama comedy raises some interesting and poignant issues about what it means to be family, with Billi being caught in the middle of traditional Chinese culture and the Western values she has developed while living in the USA.