Details

Category: Arts & Culture
Published: Thursday, 23 June 2022 15:15
Written by Nita Teoh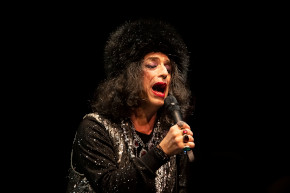 Sitting around cosy tables on the boards of His Majesty's with a handy pop up bar behind us, my better half and I eagerly waited for the show to begin,  and our eyes were drawn upwards to the domed ceiling admiring the pretty decor of this over 100 year historical building.

Paul Capsis - the "one and only" cabaret queen returns to Perth after 10 years with two special performances at the Perth International Cabaret Festival.

Stepping on stage dressed to the hilt with his foxy purple fur number – glittering sequenced silvery pants and all – we knew we were in for a special night.

With renditions spanning a myriad of famous music artists of the likes of Janice Joplin, the Beatles, Nina Simone, Lou Reed - Capsis's versatility and vibrancy is a unique one with his strong soulful blues voice which is second to none.

What stood out for myself in being lucky enough to enjoy this memorable evening and special performance is that Capsis gives it his all on stage – he is a musical dynamo!