Details

Category: Arts & Culture
Published: Thursday, 23 February 2023 11:02
Written by Greg Letts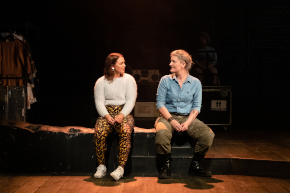 Thanks to Covid, alternative venues and the vagaries of modern life, it had been quite a while since my partner and I had had the pleasure of taking in a performance at the Heath Ledger Theatre. After all the doom and gloom of the past few years, it was an inspired choice by Artistic Director Kate Champion to choose Virginia Gay's adaptation of Cyrano de Bergerac (directed by Sarah Goodes) as the season opener by Black Swan State Theatre Company in 2023.

Most of us are passingly familiar with the theme of Cyrano, the warrior-poet with the large heart and even larger nose. But the original is a tragedy, while Gay's version is a modern-day rom-com which nods to the source material but forges its own path, with new spins on the tropes of the past.