Details

Category: Arts & Culture
Published: Tuesday, 14 February 2023 10:31
Written by Nita Teoh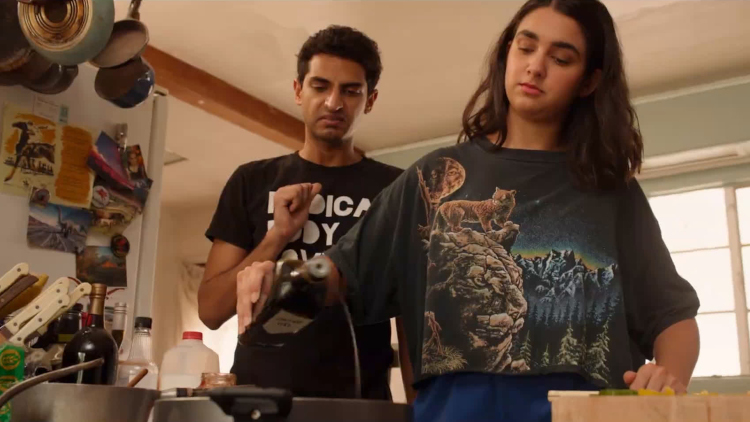 Karan Soni (as Ravi), Geraldine Viswanathan (as Rita), 7 Days
Photo Credit: 7 Days
On a warmish February evening, my brother and I headed to the lovely UWA Somerville to watch 7 Days at as part of the Perth Festival movie season.

It's boy meets girl….but with a difference.

Set up on a pre-arranged date by their parents who created their profiles for them on a dating website, Ravi (played by Karan Soni) and Rita (played by Geraldine Viswanathan) end up being stranded together in a house during covid times.

What starts out as a pre-arranged date turns into an uncomfortable situation as they get to know each other in close quarters.

They are like chalk and cheese – Ravi is conservative, traditional and his nerves are on edge as he tiptoes around Rita who is chilled out, relaxed and Westernised in her habits – she drinks alcohol, she eats meat...and that is where their adventures together begin.

As mentioned in the movie during the conversations between Ravi and Rita, 7 days is also the time allocated for some young Indian couples in pre-arranged marriages to get to know each other, and if all goes well, to get engaged and tie the knot.

Movie goers who enjoy a light hearted American rom com will enjoy this film from Director Roshan Sethi, who co wrote the film with lead actor Karan Soni (his partner in real life).

It's breezy, it's fun – some of the lines and some of the situations that Ravi and Rita get themselves into are incredibly funny with many laugh out loud moments.

The movie also raises the interesting question of what exactly are cultural norms and is there relative homogeneity within a specific cultural set ?

Probably not – as though we all start somewhere in our "where are you from?" journey, the factors that influence the way we turn out are many and varied – our upbringing, our family, our cultural background, where we live, and our friends and social influences – all have an effect which may take us far from where we started.

This modern story also brings to light the challenges of covid quarantine, which will be a familiar experience to many these days, including our adaptation to modes of communication such as zooming and mobile texting which became the norm during these recent times.

The film premiered at the 2021 Tribeca Film Festival in 2021, and then won the award for the Best First Feature at the 2022 Independent Spirit Awards.

7 Days will show at the UWA Somerville Auditorium until this Sunday 19 February as part of the Perth Festival movie season. 
If you enjoyed this article, please share it!


To find out about the hottest events in Perth, follow us at @PerthWalkabout