Details

Category: Arts & Culture
Published: Tuesday, 21 March 2023 10:59
Written by Nita Teoh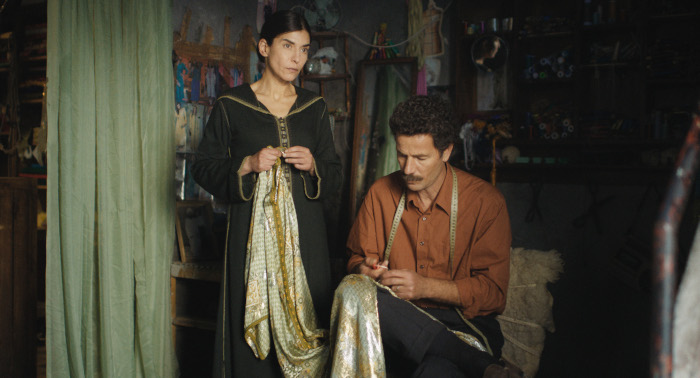 Lubna Azabal (as Mina) and Saleh Bakri (as Halim), The Blue Caftan
Photo Credit: The Blue Caftan
As the Perth Festival movie season comes to an end (there will be an encore season from the 3rd to 9th April), my better half and I headed to UWA Somerville to watch The Blue Caftan.

The Blue Caftan is set in a small Moroccan town where Mina (Lubna Azabal) and Halim (Saleh Bakri) run a store making beautifully embroidered caftans. Their days are spent manning the shop, dealing with customers, and keeping up with the workload of making caftans for sometimes demanding customers.

The middle aged couple decide to take on Youssef (Ayoub Missioui) as an apprentice.  He is keen to learn embroidery and tailoring from Halim (the master tailor – also known as a maalem). And thereon as the story unfolds, an intimate love triangle develops between them.

The story is tender, the story is sensuous. It is exquisite in portraying the fragility of love that comes in many forms and the intimacy that goes with love.

The character development of each of the key characters is rich and contextual, conveying to movie goers each characters feelings about what is happening to them, and their interactions with each other – often with few spoken words, but with gestures and looks conveying much of what is being said.

It explores the complexity of sexuality – (that it is not always cut and dry, love is love) – within the challenges of a society and culture whose restrictions make being openly gay taboo.

All up, The Blue Caftan is a strikingly beautiful movie which oozes sensuality in a subtle manner. It strikes a chord – and touches the heart – as such is love – beautiful and tender, and oftentimes heart breaking.

Director Maryam Touzani has crafted an exquisite tale along with the gorgeous cinematography by Virginie Surdej.

It is a beautifully layered film with many textures – just like a beautiful caftan with its many weaves and intricacies.

Movie goers who enjoy a slow and tender movie with heart will enjoy The Blue Caftan.

Winner of the Un Certain Regard FIPRESCI prize at the Cannes Film Festival and Best Director at the Chicago International Film festival.

Enjoy the last few weeks at UWA Somerville to watch a delightful selection of movies from around the world.

The Blue Caftan shows at UWA Somerville as part of the Perth Festival movie season until this Sunday 26 March. 

The Blue Caftan is also on at Luna Leederville from March 30.

If you enjoyed this article, please share it!


To find out about the hottest events in Perth, follow us at @PerthWalkabout