Details

Category: Arts & Culture
Published: Saturday, 16 October 2021 09:18
Written by Nita Teoh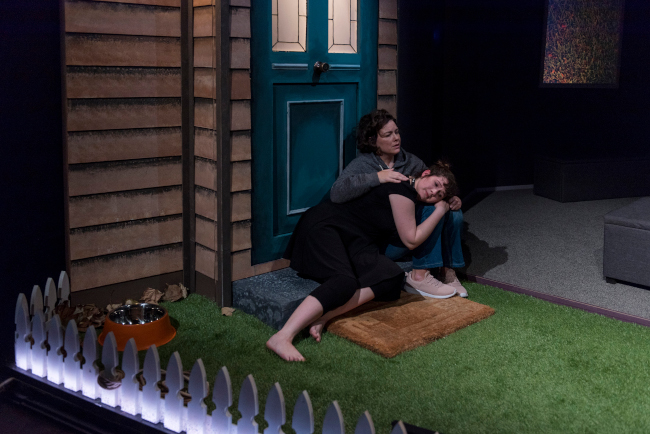 Amy Mathews and Arielle Gray in Bite the Hand, by The Last Great Hunt
Photo Credit: Christophe Canto
What is so special about dogs ? - their unconditional love for a start and much, much more.

Where do we begin? As avid dog lovers – my partner and I heading off to the Subiaco Arts Centre – with a dog-owning friend in tow to watch "Bite the Hand" by The Last Great Hunt.

In Australia according to the RSPCA nearly 1 in 2 households own dogs and this trend is on the rise. We love our dogs and couldn't do without them for many and varied reasons.

Human and man's best friend – our relationships with our beloved dog is an important one – simplex and complex all at once.

The Last Great Hunt takes us on an interesting journey to explore what might happen if our favourite canines had more intelligence, and thus more power and the ability to express and exert their will. Would we be better off in terms of strengthening our bond through greater understanding between human and dog ?

Would the human be better off ? The dog as well? Both parties ?

We often say "If only they could talk to us" - but what are the implications if they really could?

As well as being extremely funny – it helps if you are a dog person to appreciate the finer points of being a dog lover – though if you aren't – you would still find the play an insightful perspective on the sometimes quirky and commanding relationships between dog and human.

Who is boss after all?

I loved the unique theme of this play – I've seen a number of dog films and dog documentaries – and dogs featuring in live play performances – though not a theatre production with a dog theme.

A great night out and a terrific night of entertainment – thoughtful provoking, questioning and funny all at once.

I sit here writing this review whilst wondering what our current resident pooch – a beautiful guide dog puppy in training is thinking as he makes zzz's.  When he looks up at me with his most beautiful and soulful eyes, I can't but help be mesmerised by this special canine friend.

Bite the Hand by The Last Great Hunt is on at the Subiaco Arts Centre until the 23 October.

If you enjoyed this article, please share it!
To find out about the hottest events in Perth, follow us at @PerthWalkabout