Details

Category: Events
Published: Friday, 03 May 2013 08:27
Written by Nita Teoh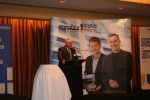 On a weekday night in Perth, the business community gathered at the Hyatt Regency in Perth for a special function, with Alan Jones Formula 1 racing driver making a guest appearance to launch the book Formula 1 for Business. The book is co-authored by entrepreneurs Simon Frayne and Daniel O'Connor, both of whom are well known to the Perth business community.
You may ask what does Formula 1 driving have in common with business success? Quite a lot it turns out, as we heard Alan share his stories about his start in the racing driving community. Armed with only 50 quid in his pocket, and a burning ambition to make his mark, he headed off to the UK to pursue his dream of becoming the best Formula 1 driver. And that he did, with a momentous string of wins in the Formula 1 World Championships that we all know and admire him for.
Alan Jones' busy schedule in Perth also included a star appearance at a charity lunch to raise funds for the Kalparrin – A Centre for Families of Children with Special Needs, located at the Princess Margaret Hospital.