Details

Category: Arts & Culture
Published: Friday, 06 August 2021 08:54
Written by Nita Teoh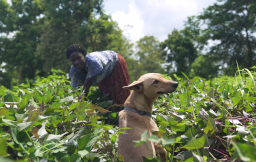 It's a running joke that we often love our dogs more than we love our partners!

Perhaps its their unconditional love that makes us love our dogs more and we do often go to great lengths for our dogs to show our love for them in return.

With their trust and acceptance (as well as many other amazing traits), dogs are indeed special.

The directors of the documentary "We Don't Deserve Dogs", Matthew Salleh and Rose Tucker, provide an interesting take on what meaning dogs can provide to human lives.

They have provided a wide perspective from a number of people around the world living in a vast range of circumstances: from therapy dogs who provide comfort and assistance to people who have experienced severe trauma, to simple pet dogs that provide a special bond and companionship to their owners.