Details

Category: Arts & Culture
Published: Tuesday, 05 July 2022 11:06
Written by Nita Teoh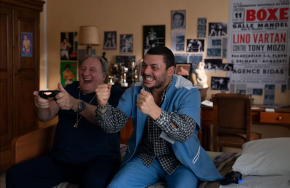 "...inside every old person is a young person wondering what happened." - Terry Pratchett, Moving Pictures.

Milann Rousseau (Kev Adams) is a twenty-something orphan who can't get his life together. Aimless, behind in his rent, owing money to loan sharks, and unable to hold down a job, he is dependent on his best friend for a place to stay.

Milann's life takes a steep downward turn after a temper tantrum in his latest short-lived job, when he is sentenced to 300 hours of community service in a retirement village for injuring a senior citizen. He is only allowed three warnings for workplace infractions before being sent to prison instead. Can the self-centred and irresponsible man-child survive 3 months of his worst nightmare, being a dogsbody for old people?

Worse still, the residents at the retirement home don't take to Milann and his bad attitude, and their secret committee decides to teach him a lesson or two. The home's director (Antoine Duléry) and head of security (Ludovic Berthillot) don't like him either, and only want him there for the government funding. And the loan shark wants his money back now, resulting in Milann being kicked out of his wrecked apartment by his fed up friend (Oussama Kheddam).

At rock bottom in life, Milann is forced to take desperate measures to survive.