Details

Category: Events
Published: Thursday, 16 January 2014 15:33
Written by admin2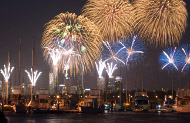 The first days and weeks of 2014 may have passed but that doesn't mean that celebrations here in Perth are over. Here are some fun and interesting events happening around Perth to look forward to this January and February.

The second last of the current summer series of Smart Street Parties in Mandurah is happening this Friday the 17th January. The event is held in Small Street Mall where you will find street food stalls to tempt your taste buds and local musos who will entertain you for the evening. Be there to check out the food stalls, to enjoy the live music and to get into the groove.