Details

Category: Events
Published: Tuesday, 21 January 2014 10:31
Written by Nita Teoh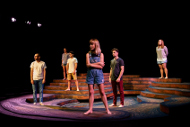 Black Swan State Theatre Company kicked off its season of plays for 2014 with the premier of Flood. The play is also being performed as part of the World Fringe Festival.
Flood was written by Chris Isaacs and is directed by Adam Mitchell, who also brought us The Mother Fucker with the Hat at the same time last year. The play is an initiative of the Black Swan Lab, which is a collaboration of emerging artists.

The mood of the play is light hearted to begin with – a group of 6 twenty-something close friends heading up north from Perth to have a much anticipated camping holiday over the Christmas season. The atmosphere is relaxed and carefree and as friends do, there is lots of laughter, joking and teasing back and forth.
As is the case when close friends who know each other well get together, you can enjoy yourselves without a lot of pretence and be able to drop your guard. Then a tragic accident occurs unexpectedly which stops the group in the middle of their tracks.