Details

Category: Events
Published: Wednesday, 30 October 2013 08:56
Written by Nita Teoh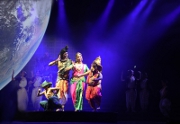 The Swan Festival of Lights is on again this year at the Supreme Court Gardens from the 1st to the 3rd November to celebrate the Deepavali Festival.
Deepavali (Diwali) is the Indian Festival that means the "festival of lights". It is a joyous occasion that is observed by Indians around the world, and is a celebration of the Inner Light that resides in all of.
Words of hope, peace, harmony, knowledge, joy and truth are some of the messages that will be spread during the festival.
The Swan Festival of Lights presented by The Temple of Fine Arts Inc Perth and Annalakshmi Cultural Centre of WA will be a feast for the senses.
There will be food stalls serving tasty vegetarian food…think tasty home made food such as Indian curries, samosas, dosais, uttapam, parathas…yum!