Details

Category: Great Outdoors
Published: Friday, 02 March 2012 12:06
Written by Emily Cordz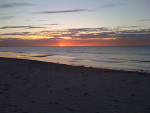 Great weather is something Perth is known for and there are tons of ways to get out and enjoy it. Are you someone who likes more purpose to their outdoor exploits than just relaxing on the beach?

Don't limit yourself to a jaunt around the neighbourhood and or picnicking in the park as your only outdoor excursions, below are some ideas of things to do in Perth that are active, outdoors and, best of all, free.