Details

Category: Arts & Culture
Published: Wednesday, 24 November 2021 15:11
Written by Greg Letts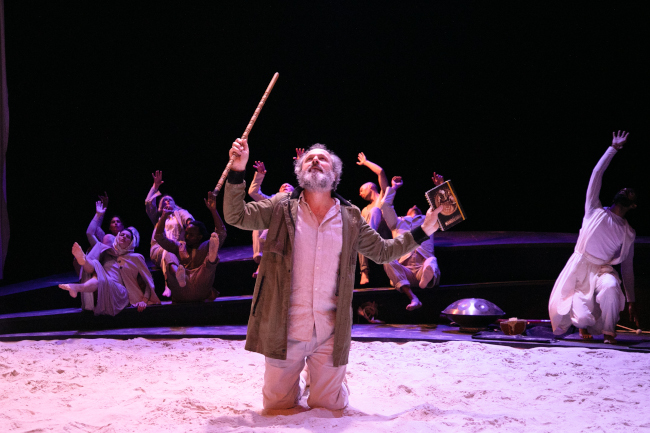 Humphrey Bower, The Tempest
Photo Credit: Daniel J Grant

On a cool spring night with a fresh breeze blowing around the UWA grounds, the scene was set for Black Swan State Theatre Company's production of Shakespeare's The Tempest. Fortunately the Octagon Theatre proved to be wind-proof, as otherwise the audience would have ended up covered in grit, since we were greeted by the cast prowling a sandy beach and venturing into the uncharted waters of the audience in search of additional props.

As the later arrivals continued to filter in, those of us who were already seated were treated to a few sea-shanties by the cast, who all seemed to be in good humour and poised for action. And then the final stirring notes faded away and the play began in earnest.

As somebody whose exposure to Shakespeare amounts to suffering through Macbeth in high school and recognising a few of his more famous quotations, I wasn't sure how I would go with listening to an hour and forty minutes of old style English. I didn't know what The Tempest is actually about, and I was concerned I might not be able to keep up with what was going on. I needn't have worried, because although there were a few obscure phrases, and the rhythm and phrasing of Shakespeare's text is a bit unusual for modern ears, I found I could keep track of what was going on without a problem.

Fans of Shakespeare will not need a synopsis of the plot, and I won't spoil things for the uninitiated like myself. But suffice to say that it is an interesting story of treason, love, men & women (and the monsters within them), and family ties (both good and bad). With just a bit of magic thrown in for good measure. Thankfully Shakespeare can manage to endow a story with a moral without overdoing it, unlike some other more modern playwrights!

One of the things I always look forward to when attending a Black Swan State Theatre Company production is the set, lighting and costume design. These are always first-rate and The Tempest is no exception, although at first glance it looked to be a very stripped back set. But sometimes less really is more, as subsequent events proved. Well done team.

The cast did a terrific job with their material, providing the audience with plenty of entertainment as the story unfolded. Humphrey Bower shouldered the load of Prospero in fine style, and everyone played their part and had their moments. My special mention goes to Charlotte Otton, who was not only great as Stephanie, but who also gave us a rendition of "Ring Down Below" in a voice that resonated all the way down to your toes!

Finally, I would be remiss not to mention the musical side of this production. I must say that usually the accompanying music is something I take for granted, but this time around it was brought to the fore in a way that complemented the play without distracting from it. Kudos to cast member and composer Pavan Kumar Hari, and whatever that UFO-like thing you were playing, you were fantastic on it!

Overall, an entertaining and interesting night at the Octagon Theatre. Lovers of Shakespeare will enjoy this production of his work, and ordinary theatre lovers like myself gain a taste for The Bard's timeless works thanks to Black Swan State Theatre Company's interesting blend of old and new approaches.
The Tempest by Black Swan State Theatre Company will be on until the 11 December.

If you enjoyed this article, please share it!



To find out about the hottest events in Perth, follow us at @PerthWalkabout