Details

Published: Friday, 22 July 2011 09:41
Written by Emily Cordz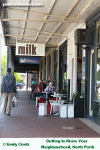 If you're planning a working holiday, Perth is an excellent place to choose. When I told people on the East Coast that I was going to head to Perth for work, most folks told me that finding work would be near impossible and living costs were much more expensive, so I'd be much better off staying on the East Coast. But my mind was made up and I headed out to Perth anyway. I'm sure glad I did. It turned out to be the easiest of all the places I went to find work and living costs were proportional to my wages.