Details

Published: Friday, 25 November 2011 08:28
Written by Emily Cordz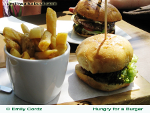 You're exploring downtown in the Perth city, discovering the laneways, the historic buildings and the multitude of shopping options, when your stomach begins to rumble. Don't let your hunger make you grumpy and ruin a good day. There are lots of great dining options in the Perth city to suit everyone's budgets and tastes.
The cost of eating can vary dramatically depending on where you are in the city and if you go to a restaurant or food hall. Typically the more traffic a street experiences, the more expensive the food along the way. There are still good deals to be had along the main drags, but if you wander a block or two away from the crowds you will find the number of cheap eats increases dramatically. A lot of these places look a little obscure, but head in and you'll often find good food that fills you up without emptying your wallet.