Details

Published: Wednesday, 03 August 2011 10:57
Written by Nita Teoh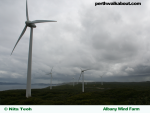 The town of Albany, located on the south west coast of Western Australia, has grown up a lot these days. It was a relatively quiet seaside town a couple of decades ago. Today its township is bustling, as it continues to expand to meet the needs of its residents.

Getting to Albany is quite a straight forward journey. It takes around 4.5 to 5 hrs to drive there, and it is literally one straight road travelling along Albany Highway.

As a young kid growing up in Perth my family used to visit Albany during the long summer holidays, and we had a lot of fun doing holiday stuff such as enjoying the beautiful beaches, cooking up delicious meals, and exploring Albany's coast.