Details

Published: Monday, 10 February 2020 09:48
Written by Greg Letts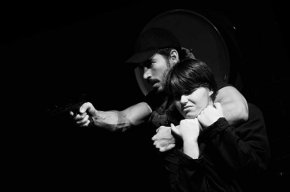 Set in a not-so-distant future where China has stepped in and taken over a disaster wracked Australia, The Empire being performed by the Actors Hub as part of Fringe Perth is a bleak mixing of The Matrix, Pokemon Go, Call of Duty and The Hunger Games, along with the comments section on YouTube!

Firmly under the thumb of their new Chinese masters, 80% of Australians take refuge in "The Game", an augmented reality program where they can return to the good old days of Australian values and experience the freedoms they are denied in real world.

But despite the best efforts of the triad of power at Hubris (The Game's developers), The Game is not safe. There are rumours that people are vanishing and turning up dead months later, if they are ever seen again at all!