Details

Published: Sunday, 18 November 2018 09:27
Written by Lee-Ann Khoh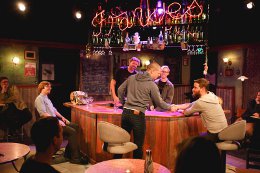 When I read that Frankie's was completely unscripted, I thought: "This will either be amazing or terrible." Fortunately, it was not the latter.
Frankie's is the name of the dive bar where this unique play (Is it still called a play if there's no script?) is set.

Each show is another night at Frankie's, where we – the audience – get to hang out, observe and engage with the banter between the staff and regular punters.

If you attend multiple shows, you can see where the main characters have gotten to in their lives since you last saw them.

Each show is also illustrated, with the artwork displayed at the Blue Room Theatre during the show's run, so you can catch up on what happened on previous nights.