Details

Published: Sunday, 11 October 2020 08:39
Written by Nita Teoh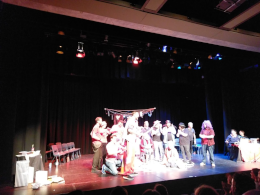 In these uncertain times of covid-19 and social distancing, my partner and I were looking forward to getting out of the house and watching a real live performance for the first time in many months.

Strangely enough, in a time where performers have had many months away from the spotlight to rehearse and hone their roles, our first foray back to the theatre was to watch a night of improvisational comedy – The Big Hoo-Haa! 18th Birthday Show, at the Dolphin Theatre in the Nedlands UWA campus.

Improv comedy is one of those real seat-of-the-pants things, especially when performed troupe style like the way The Big Hoo-Haa does it.