Details

Published: Tuesday, 01 January 2019 11:41
Written by Greg Letts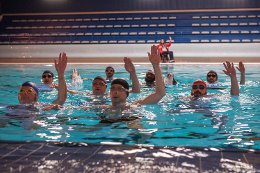 On a beautifully balmy New Year's Eve my partner and I joined what seemed like half of Nedlands at the Somerville in UWA to watch the French drama / comedy Sink or Swim. Billed as a crowd pleasing Full Monty style film, Sink or Swim found us swimming in darker waters than the traditional British classic. 

Whilst following the standard "bunch of inept losers come together to overcome their problems and rise to the top", Sink or Swim avoids merely sticking to the stereotypical patterns normally seen in such movies.