Details

Published: Wednesday, 20 November 2019 10:27
Written by Nita Teoh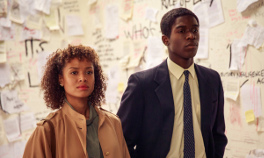 Based on an autobiographical story by writer-director Adewale Akinnuoye-Agbaje, Farming centres around the story of Enitan, a young Nigerian boy growing up in the UK last century.

During the 1960's to 1980's a practice called "farming" took place, whereby Nigerian families fostered out their children to working class white families in Britain, so that they could focus on work, study and saving money.

As the movie unfolds, we are thrown into Enitan's childhood and coming of age story which one can only best describe as turbulent.

He is alone and a misfit – caught between cultures, and subject to constant racism. When he gets drawn into the world of a racist and violent skinhead gang, it starts a sequence of events that lead to pointless repeated violence and tragic circumstances.