Details

Category: Events
Published: Wednesday, 13 February 2013 08:37
Written by Nita Teoh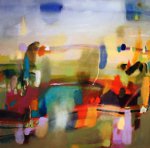 Lovers of art in Perth are in for a treat when the CONTINUUM art exhibition opens its doors on Friday, 15 February at the Alcoa Mandurah Art Gallery.
CONTINUUM is the latest solo art exhibition by Perth based artist Jennifer Sadler, which features drawings and paintings that focus on the coastal plains of the south west of Western Australia.
Sadler is an emerging local artist who has been acknowledged for her creative visual arts with a first prize in the Victoria Park Art Awards, and a high commendation from the South Perth Emerging Artist Awards.
Born in Jamaica, Sadler also lived as a child in the highlands of Scotland. She has travelled extensively around Australia, including our own South-West. Sadler is able to draw upon her time in such contrasting environments to depict her own interpretation of the feel and colour of different locales. In this exhibition she is concentrating on the South-West's coastal plains.