Details

Published: Thursday, 24 August 2017 11:15
Written by Nita Teoh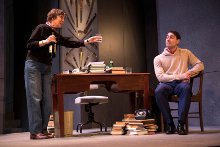 Joanna Murray-Smith is the Australian playwright of this chilling production which is based on the life and times of famous suspense novelist Patricia Highsmith (played by Jenny Davis). Highsmith is famous for her psychological crime thriller titles including The Talented Mr Ripley and Strangers on a Train.
Set in the Swiss alps, Highsmith's reclusive existence is intruded upon by the young and vapid New Yorker Edward Ridgeway (played by Giuseppe Rotondella), who has been sent by his publishing company to get her to sign up for a final last masterpiece in her Ripley saga.