Details

Category: Events
Published: Wednesday, 06 February 2013 09:26
Written by Nita Teoh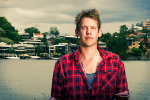 "How racist are you? How racist am I? In Australia, how racist are we?..."
These questions and more are what comedian Xavier Toby will be addressing in his stand up show White Trash. He performed White Trash at the Melbourne Fringe 2012 and now he's in town to share his funny and thought provoking show at the Perth Fringe Festival 2013.
You'll be sure to get plenty of laughs at his comedy act, but along with the humour Xavier sneaks in some seriously thought provoking points about racism in Australia which may hit a nerve or two.
And if comedy and racism weren't enough, Xavier also promises to include penguins. We aren't quite sure how these cute little birds fit into the grand scheme of things, so if you want to find out, you'll just have to come watch Xavier Toby at the Fringe Festival in Perth.
Finding myself intrigued by the idea of a comedic look at racism in Australia (and a bit puzzled about the penguins!), I went in search of some answers from Xavier Toby himself about his views on racism in Australia and about other issues that we face as a society. And as you might expect, Xavier replied with a mix of insight, wit and wisdom, with just a touch of wacky thrown in for good measure!