Details

Published: Wednesday, 30 May 2012 11:36
Written by Emily Cordz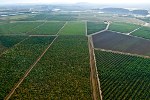 Are you wanting to buy local and searching for locally sourced products in Perth?

Many people are becoming more conscientious about how their food was grown or raised, but another, arguably more important, factor to consider is where the food comes from. Locally sourced food is superior in terms of nutrition, supports your community and is significantly better for the environment.
Locally produced food provides you more nutritional bang for your buck, especially in terms of produce, which begins to lose nutrients a few days after harvesting and continues to do so until they become little more than nutritionally void items on a shelf.