Details

Published: Wednesday, 01 February 2012 10:37
Written by John Durey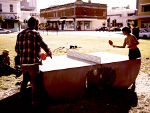 Public Outdoor Ping Pong is POPP. We make outdoor ping pong tables from 700kg of steel and we get local artists to do their artwork.
Each table is a non-porous steel canvas and we encourage the artist to do whatever they feel would be most daring. There are no briefs or limitations. Sean Morris illustrated a beast with a severed head and severed limbs and Jae Criddle trapped a man with wings, or a pheasant on his back - depending on the angle.
The tables then end up in public - parks, open spaces, town squares. People kind of look at them at first, ponder the artwork and sometimes they work out that they can play ping pong on them, too.