Details

Published: Friday, 11 May 2012 12:25
Written by Alex Taucher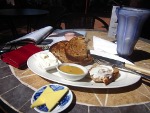 I am one of those people who are lucky enough to live in Applecross. It is the best location in Perth, and I love being a 15 minute train and walk from the city, a 30 minute bus ride to Fremantle and five minutes from the river. But one of the best things about living in Applecross is the wonderful fact that I am within walking distance to Applecross Village on Ardross Street.The words 'Ardross Street' most commonly refer to the little gathering of shops between Macdonald Road and Kintail Road in Applecross.