Details

Published: Wednesday, 11 April 2012 16:10
Written by Alex Taucher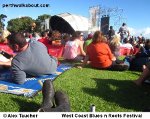 Last weekend (April 4th) my brother and I headed off to the West Coast Blues n Roots Festival!
Both of us had work on Sunday morning, but after a quick clothing change (raybans…check, doc martins…check, cool festival hat…check) we jumped on the 106 and headed down Canning Highway to Fremantle.
Everyone knows that food at festival events = long queues and exuberant prices, so we grabbed a pie from the Fremantle bakehouse (best pies in Freo) and a cider at the Sail and Anchor and made our way to the gig. The West Coast Blues n Roots Festival (WCBR) is held at Fremantle Park, just a short 10 minute walk from the centre of town.