Details

Published: Wednesday, 28 September 2011 08:41
Written by Emily Cordz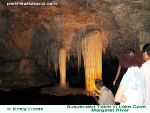 Mention Margaret River to a wine connoisseur and you will soon be hearing about the multitude of world class wines the region produces. Before wine, it was the world class waves that brought Margaret River international acclaim in the surfing circuit. Couple the wine and surfing with gourmet foods, natural wonders and excellent year round weather and you have a destination that's sure to please.
Margaret River is located 268 km south of Perth. To get there you head south and stay near the coast. Depending on your available time you can stay on the major highways and make it in a little over three hours, or take your time and explore the many small roads and towns along the way.

1 comments