Details

Published: Wednesday, 09 November 2011 11:05
Written by Vicki Sly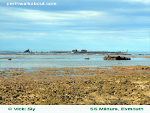 Exmouth is considered one of Western Australia's top tourist destinations as it is home to the famous Ningaloo Reef, has magnificent marine wildlife, raw landscape and is warm for most of the year.
Ningaloo Reef stretches approximately 260 km from Coral Bay in the south to Exmouth in the north and takes in 5,000 square km of ocean amass with tropical fish, whales, turtles and coral.
The reef is so popular because you can snorkel and dive straight from the beach without having to take a boat ride out to the deep.
Travellers to Perth who are short on time would be best to fly to Exmouth as it is located 1270 km north of the city. The flight is around two hours. However, if you do have time to drive, you would need to allow two days as there is plenty to see along the way.
The town of Exmouth is growing and each time I go there I am amazed with just how much.