Details

Published: Wednesday, 19 October 2011 08:12
Written by Vicki Sly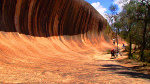 The first thing that you need to know if you are planning to visit Wave Rock in Western Australia is that there is no beach sand or surf involved.
A friend of mine tells a great story about meeting four young international tourists when they stopped to refuel at a petrol station he was working at not far from the rock.
They had surfboards tied to the roof of their car and when he asked where they were planning to surf so far from the coast they replied "Wave Rock". He had to set them straight and after they got over their initial shock and embarrassment, he reassured them that it was still well worth the visit despite the lack of swell and beach babes.
Wave Rock is actually 350 km east of the coastal city of Perth near the outback town of Hyden and is one of Australia's most famous landforms.