Details

Published: Friday, 23 September 2011 08:38
Written by Vicki Sly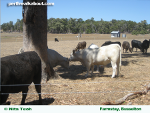 Many believe that you can never quite experience the "real" Western Australia unless you step outside the city and away from the coast.
It is true that the bulk of Western Australians live in Perth (about 1.7 million out of 2.3 million) and a great majority of the rest live in the regional coastal towns, but there are those that choose to live a different kind of existence, life on the land.
For travellers who want to escape the hustle and bustle of city life for a while, experiencing this pastoral lifestyle in all its glory is a real option.
Farm stays offer the chance to get your hands dirty, work with animals, breathe in the Australian bush, take a hike and best of all, meet the locals who are working the land.