Details

Category: Arts & Culture
Published: Monday, 11 February 2019 11:24
Written by Lee-Ann Khoh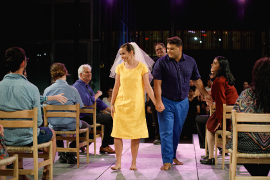 Thornton Wilder's Our Town is a play that knows it's a play. And Black Swan State Theatre Company's production of this Pulitzer Prize-winning play knows it's being performed in Australia in 2019, not the United States in 1938 (where it made its debut).
Our Town is set in the fictional small town of Grover's Corners, New Hampshire in the early 20th century. The first act takes place in 1901 and introduces us to various townsfolk, including the neighbouring Gibbs and Webb families. The second act jumps forward three years, where George Gibbs and Emily Webb, who have recently finished high school, are getting married. The third act, set nine years after the second, focuses on Emily after she dies giving birth to her and George's second child.
But as I mentioned earlier, Our Town knows it's not really in New Hampshire.