Details

Published: Friday, 07 October 2011 09:34
Written by Nita Teoh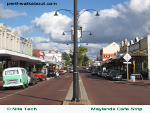 Maylands - an inner city suburb located on the eastern side of Perth, is approximately 4 kilometres from the Perth CBD. Its local café strip on Eighth Avenue has seen interesting changes over the last few years, and has been transformed from a relatively quiet area to a bustling and thriving café strip.
Eighth Avenue offers an interesting and eclectic mix of retail shops and eateries. Browsing the strip, you'll find restaurants offering tasty culinary delights from all over the world, trendy cafes, specialised retail shops, and essential services.
The café strip receives a steady stream of visitors as commuters make their way to the nearby Maylands train station, located at the end of Eighth Avenue. If you are standing on the corner of Whatley Crescent and Eighth Avenue, and cast your eyes over the tracks past the Maylands train station, you'll spot a lovely looking heritage building of Edwardian style.