Details

Published: Friday, 16 March 2012 11:11
Written by Amy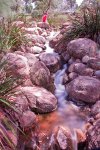 Four kids in Perth for a day? What should we see? I wasn't quite sure. Since 2009, we've been travelling around Australia in a caravan with our four kids, ten-year old Peter, nine-year old Susan, six-year old Lucy and three-year-old Edmund. Having only recently made it to Western Australia, this was to be our first time in the state's capital, and we weren't entirely sure what to see first.
We put it to our blog readers about what we should see, considering that we'll probably go back to Perth, but this time we only have a day. The answers came in thick and fast. Kings Park, Cottesloe Beach, Maritime Museum, Fremantle gaol, round prison, Fremantle markets, science museum, mint, zoo, ferry from Fremantle to the city, bell tower in the city, London arcade, fish and chips at Fremantle and the CAT busses were all nominated.