Details

Published: Wednesday, 14 December 2011 11:44
Written by Emily Cordz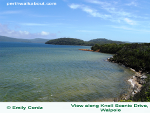 Located along the north side of the Walpole Inlet, this small country town offers countless attractions for anyone enthusiastic about or even marginally interested in the outdoors. To get to Walpole, drive south from Perth along the South Western Highway for about 420km or head east from Demark for 65km.
A great first stop when you arrive in town is the Walpole Visitor Centre. It is located along the South Coast Highway in Pioneer Park. Walpole grew significantly in the 1930s Great Depression through the Nornalup Land Settlement, which brought unemployed men and their families into the area to develop farming. They camped in Pioneer Park as they waited for their land allocation. Learn more about this and other parts of Walpole's history, pick up maps, get recommendations and chat with some locals before heading out to explore everything Walpole has to offer.