Details

Published: Wednesday, 15 February 2012 11:47
Written by Emmanuela Dias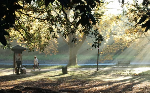 For those of us who know this little treasure and make use of it on a day to day basis we are indeed lucky, and for those of us who are still to stumble upon it here is a short introduction.
Hyde Park is known for its unique twin lakes and its grand old plain trees which line the lakes and provide a wonderful canopy whether it is summer, autumn, spring or winter. It is the place where many people come to get married, take family photos, enjoy birthday BBQs, and where some seek solitude and rest from the stresses of everyday life.
The very name Hyde Park has a distinct call to it. It is the name of a few wonderful parks around the world: London, Sydney, and Adelaide all have their Hyde Park, and our city of Perth in Western Australia is no exception.