Details

Published: Wednesday, 23 November 2011 09:21
Written by Vicki Sly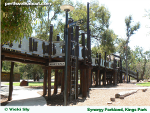 We are lucky in Western Australia to have a lot of space around us and a city that is filled with playgrounds for children to run free.
Whether it is holiday time or you just need the kids to get outside for a breath of fresh air, playgrounds are a fun and free way to entertain the family.
It would be safe to say that most suburbs in Perth have a large number of playgrounds to choose from, including the city centre. You may have your favourite and if so, we would love to here all about it.
Here are some playgrounds that have been favourites in my family in the past and that you may want to consider the next time you are looking for some kid-friendly activities that won't break the bank and will give you a break at the same time!
Let's start at Kings Park which is located on the western edge of the city centre. Along with a thousand acres of parkland to explore, the park has some wonderful playgrounds for active kids.