Details

Published: Wednesday, 21 September 2011 11:05
Written by Emily Cordz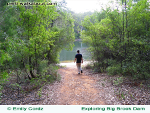 Prepare to use all of your five senses when you visit Pemberton. What was once a small timber town has blossomed into a wonderful getaway. Located only 338 kilometres south of Perth, a visit to Pemberton could be a long day trip or a several days adventure. No matter how long you stay there is always plenty to do.

You'll know you're getting close to Pemberton when you find yourself surrounded by extensive forests of very tall trees. Pemberton is surrounded by several Karri forests. These impressive trees are only found in the south west region of Western Australia and are among the world's tallest trees, growing as tall as 90 metres.