Details

Published: Wednesday, 02 November 2011 08:19
Written by Lee-Ann Khoh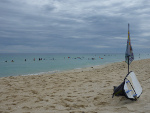 I have lived in Perth for all of my 22 years, which in theory should make me an expert on it. But what is the essence of this city? Are we Dullsville, in the glorious state of Wait Awhile? The City of Lights? The Swan River Colony? I decided to test what my social networks would say when I posted this:

"Living in Perth – Discuss."
"Discussion over," one of my friends, another lifelong Perthian, sarcastically retorted.

"Wish I still was," replied a friend in Adelaide who had spent a few months in Perth.

"Needs different things, seems every weekend is the same," mused another.

"It's actually kind of like Melbourne, only smaller and with better transport surprisingly," added a now-Brisbane-based friend.
So what does all this mean?