Details

Published: Saturday, 12 March 2011 21:42
Written by Vicki Sly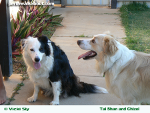 Perth has a plentiful number of dog beaches and parks where you can take your dog to walk and play.

Being a visitor or newcomer to a city often calls for searching out and finding all of your favourites from scratch, be it favourite coffee shop, book store, restaurant or for your dog, favourite place to take a walk.

Finding a route that you and your dog can use and enjoy on a regular basis can be the difference between a happy chappy and a mooching pooch.