Details

Published: Friday, 16 December 2011 11:56
Written by Daniel Scarparolo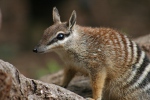 If you ask someone in Western Australia to name an endangered species, they're usually pretty quick to respond with something exotic like a tiger or panda. Sometimes you might be lucky to get an Australian animal. A Tasmanian Devil for instance. Or a Koala. But what if you ask them about something closer to home? How about the Numbat?
In my experience, this has usually been met with blank stares. A Num-what? It's not so surprising when you think about. The fate of cute and not-so-cuddly exotic animals is a much easier problem for us to deal with (mentally speaking) than looking in our own backyard and wondering where things went horribly wrong.