Details

Published: Friday, 06 January 2012 08:56
Written by Vicki Sly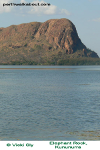 Closer to Darwin than its own capital Perth 3000km away, Kununurra is often described as the last frontier.
Situated at the heart of the East Kimberley in northern West Australia, Kununurra is a green oasis in the red dirt that in the local Aboriginal language means "the meeting of the big waters."
My family and I were lucky enough to live there for three months in the mild season before the wet a few years ago. It is hot all year round with two distinct seasons; the wet (November – January) and the dry. Many roads are closed during the wet season so it is best to travel in the dry and plan ahead.