Details

Category: Arts & Culture
Published: Monday, 22 June 2015 09:43
Written by admin2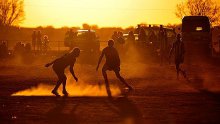 The uniquely West Australian production of Greenfield, a five episode web-series will premier at Luna Leederville this Thursday 25 June.
Greenfield is an Australian-Danish cinematic soap-drama web-series set in rural Australia, which follows the story of the main character James hoping to start a new life in small town Greenfield with his girlfriend Kelly.
After an absence of over ten years, James' aspirations to rebuild his former life with girlfriend, Kelly are short-lived when her brother confides in her a volatile secret.