Details

Category: Arts & Culture
Published: Saturday, 23 August 2014 15:47
Written by admin2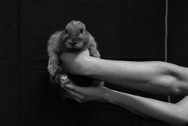 Imagine being 29 and unable to leave your country.
An audacious theatrical experiment that will come as a shock – not least to the actor handed the script the moment they walk on stage.
Observe the improvisational skills of some of Perth's finest actors, and a powerful exploration of the positives of a globalised world. Actor and audience will journey into the unknown together, as they stumble upon the humorous, terrifying and utterly human towards a dissection of the limits of liberty and our own role in ensuring its sanctity.