Details

Category: Arts & Culture
Published: Tuesday, 05 July 2016 08:07
Written by Lee-Ann Khoh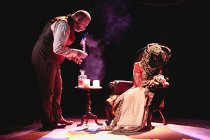 Haunting squeals and whistles echoed around the room as the audience descended into the theatre for the opening night of A Perfect Specimen.

On a dimly lit, two-tiered circular stage stood three A-frames, featuring provocative headlines like Behold! The Monkey Woman.

Then Theodore Lent (played by Luke Hewitt) emerged from the curtains, tapped his cane sharply on the ground and – in an ominous, booming voice – invited us to the show.
A Perfect Specimen, by Perth-born award-winning playwright Nathaniel Moncrieff, is inspired by the true story of Julia Pastrana.