Details

Category: Arts & Culture
Published: Thursday, 26 June 2014 11:09
Written by Greg Letts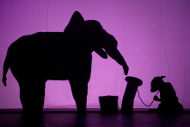 While sitting in our seats at the Regal Theatre in Subiaco waiting for the start of Shadowland, my partner and I perused the objects on stage and speculated about what sort of experience we were in for. From the brief teaser trailer we had seen, it looked like we were going to witness a night of shadow puppetry with a bit of a twist.

And then the performance was suddenly over, and we found ourselves clapping madly for the cast and crew, who had blown us away with their performance.
Shadowland involves silhouettes on a screen, but it's a long way from mere shadow puppets.