Details

Published: Wednesday, 12 February 2020 14:02
Written by Nita Teoh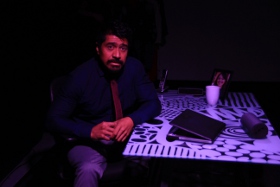 As we were walking towards The Actors Hub Studios in East Perth, my partner and I were chatting about this and that, and the conversation led to him saying "women are a mystery..." and "some more complicated and others easier to understand...".  I was hoping I fell in the latter category!

A topical conversation – given that we were heading to The Actors Hub to watch At Affinitys End.
At Affinitys End revolves  around 3 main characters - Megan and Brendan (the couple), and a communications consultant / relationships counsellor dubbed "Dr" – each month the couple have a session with Dr to work through their relationship issues.
A simple set greeted us on stage - 2 green chairs, with a bouquet of flowers on the side table, "Dr's" desk and some black pouffes. We then got an intimate look into the lives of the couple, through their regular visits to "Dr", demarcated by a sequence of clothes changes.