Details

Published: Monday, 26 October 2020 09:17
Written by Nita Teoh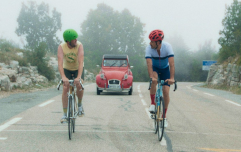 A portmanteau of the words brother and romance.

= bromance

That is the subject matter of the contemporary American movie "The Climb", which follows the friendship between Kyle and Mike who have been best friends since high school.

They enjoy each other's company and are pretty tight until the shit hits the fan over Kyle's fiancee.

Throughout the movie, there are some laugh out loud moments as well as some serious issues on hand, as the two key characters grapple with the complexities of adult life.

Relationships and friendships are the lifeblood of what makes life worthwhile and "The Climb" poses the challenging question of when is the time to call a friendship quits?